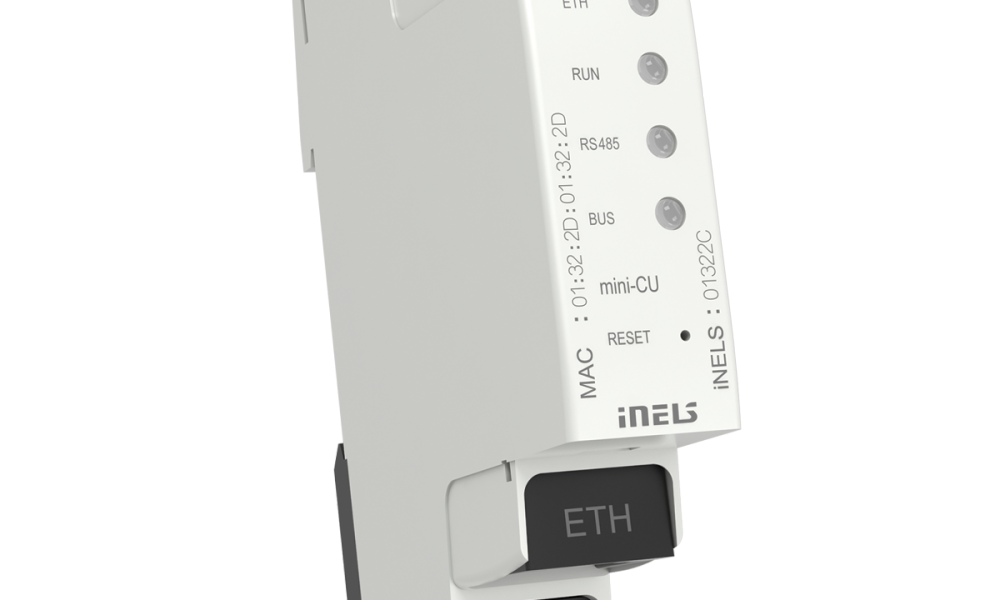 Technology
The thinnest, smallest, most powerful. Revolution in bus installations
Wait for a revolution, and wait for it in September. A solution is coming to the market that combines several superlatives. The small Mini CU3-07M centrally becomes the unrivalled smallest, thinnest and most powerful bus unit. In addition, its price will compete with wireless technologies. These are really good reasons to think about it when you need to manage smaller projects. Such as a hotel room, a smaller apartment, suite or cottage. It is launched on the market by the Holešov company ELKO EP, which in the 27 years of its existence has become the second largest European manufacturer of relays and manufactures 600,000 products every year.
Why a bus unit at all?
Comfort and user-friendliness of control. These are the main arguments why bus units are gaining in popularity every year. "Customers will gradually buy a large amount of equipment for their house, apartment or office. But over time, they find that they don't work together, they have completely different controls, and they get annoyed having to deal with them all the time. Therefore, they will start looking for a solution that connects all components and devices to a single device – and sooner or later they will end up at the bus unit, "explains Jan Kapitanov, sales director of ELKO EP, one of Europe's leading players in electrical installations. Called iNELS it is for houses, hotels and industrial complexes. It can do exactly what customers want, put the control of the entire building in one place, without complicated construction modifications, and at the same time allow users a unified interface and control everything they need from a computer, mobile phone or television.
"Experience from projects proves that installing iNELS is effective for small, relatively simple installations in apartments or suites, as well as for large hotel or commercial complexes. A standardized solution can be used in each of these building types, while investors can very easily be offered several different cost and functionally different solutions. However, the modularity and flexibility of iNELS also offers a wide range of possibilities for creating unique new concepts and approaches to space management, "explains Jan Kapitanov, why iNELS is popular across markets and socio-demographic customer groups.
By the way, the list of references of the Holešov electrical installation is definitely not uninteresting. You would find it in the St. Petersburg Hermitage, the Hungarian State Opera, and futuristic buildings in Qatar or Saudi Arabia, the National Bank building in Bhutan or in Indian development projects.
Ideal for smaller objectives
However, the new CU3-07M unit will be appreciated especially by small project managers. Typically hotel rooms, smaller apartments, suites or cottages. This is because the switchboard takes up only 4 modules, but can still serve up to 32 units (elements). All elements of the iNELS BUS system can be connected to it, typically GMRS controllers, switching and dimming actuators. Thanks to the unique IP address, it can also be scaled to different ranges of superior control (CU master, Bacner, Modbus RT, Niagara) or connected to the hotel's Property Management System, access system or Hospitality TV.
"In many hotels, but also in apartments and suites, we often solved the problem that the switchboard was no longer able to accommodate all the equipment. The new unit is therefore perfect for hotel rooms, where it allows you to quickly add a wide range of options – lights, thermostat, actuators, whatever you want, "adds Jan Kapitanov.
The new miniCU is only 17.5 millimetres wide, consumes less than 1.5 W, contains an iNELS BUS for 32 addresses, and is equipped with an RJ45 connection, a unique IP address or a 100 mPh Ethernet LAN interface.
Other specifications:
Mini CU3-07M is a small central unit for managing small projects, such as a hotel room, a smaller apartment or apartment or cottage.
Configuration takes place in the iNELS3 Designer & Manager (iDM3) software, or superior control is possible via ASCII communication with the CU3-07M mini.
The unit can operate as a stand-alone master for installation or as a slave for the master CU3-0xM.
The Mini CU3-07M can be connected directly to one BUS branch, to which up to 32 iNELS BUS units can be connected.
The RJ45 Ethernet port connector for communication and configuration is located at the bottom of the unit, the transfer rate is 100 Mbps.
For ModBus communication, eg with Fancoils and thermostats in a hotel room, the unit is equipped with an RS-485 bus.
Mini CU3-07M in 1-MODULE version are designed for mounting in a switchboard on DIN rail EN60715