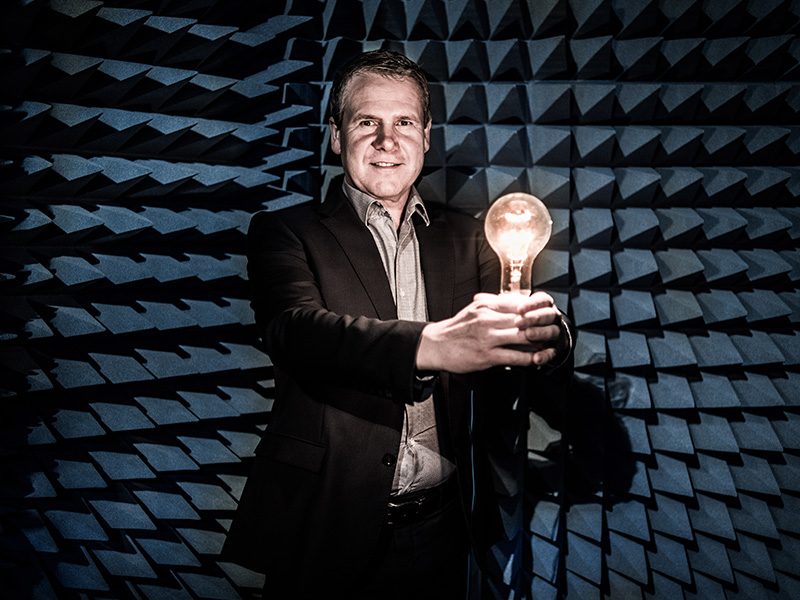 People
At home I'm a test mouse, says Visionary of the Year Jiří Konečný
What does a house where a person who has been in electronics, wiring and electronics and since then has been living in one of the most successful intelligent households in Europe for the last 25 years look like? Yes, as you would expect. Smart technology follows you at virtually every
What does a house where a person who has been in electronics, wiring and electronics and since then has been living in one of the most successful intelligent households in Europe for the last 25 years look like? Yes, as you would expect. Smart technology follows you at virtually every step.
"In our home you will find practically everything ELKO EP or iNELS produces. I'm such a test mouse that I want to touch everything myself. And I'm transferring it to the kids. When my son was three years old, he managed to make a fairy tale all over his cot. He is now five, and he is doing all the technological setups automatically," says Jiří Konečný, who has been awarded many prestigious awards in the last five years – he was announced as Entrepreneur of the Year, Visionary of the Year, Global Exporter of the Year, and Smart City  Personality. In addition to managing a company with more than 240 employees with offices in 17 countries, the Smart Living Association also leads or participates in the activities of an expert group at the Ministry of Regional Development for information strategy, which covers the technology area.
It is true that you just move what you try at home to the market?
No, I would not say that. From here we have really top development and production. People who are much more focused on technical details work with us, and I'm definitely not the first and only tester. But I'm glad I have the chance to get the technology early. Because when I talk about it and offer it, I can speak from my own experience and I would rather for any given type of customer recommend and perhaps advice against some technologies. I know well that not everybody is a fiddler like me. That's why I often recommend only those technologies that I know will not bother or hinder the customer.
What do you see the greatest strength of the ELKO Group, iNELS?
Tenacity. Tenacity gained by its own development, the flexibility of traders and also the technical background. This is also the desire to make the most of the customer. Not just in the beginning by throwing him a price offer, but throughout the process. To be happy not only for the product, but also for the process, because "time is money", which is now becoming more and more in many countries where the productivity of the work or processes itself is not enough. So, the time spent preparing, supervising, designing, programming, and setting up is all the more important and we are getting closer to Western Europe.
Where do you see the group in a few years?
My hope is that with our smart system, which we launched years ago and where 90% of our development investment is directed grows, we have the position we have built in 25 years in the relay. We are the number two in Europe, the same we would like to achieve with these systems. The relay makes it easier to measure, while in the smart systems that make up the group, the family of products is more difficult. In addition, deliveries do not go through wholesale but directly through projects.
Is that a real goal?
It is. Today we are a great European player. In addition, we have the advantage of having launched the Internet of Things and Smart Technologies years ago. That is when the market was still relatively small. Today, we can rely on millions of hours of development and production and thousands of projects. We're ready for the boom that's coming.
Internet of things is not only an attractive media bubble?
It is not. Just look at the numbers. As you can see on the graph, the number of devices connected to IoT should be more than doubled in five years. Soon, it will be practically impossible to buy equipment that will not be equipped with intelligence. Today in the Czech Republic we are in a state in which the West was two, three years ago. Smart technologies and wiring will be part of every household. If it is now more media pun, within three years it will be a reality of everyday life. On the other hand, penetration into the household will be gradual and natural. Like mobile or internet.
How did you actually think about dealing with wiring and setting up a specialized iNELS company?
In the past 25 years, we have become the absolute top in the relay, so we have a good insight into what's trending around us. Technology has begun to develop, smart phones, applications have begun to become "smart". First the smart phone, then smart home. There have already been some hints of bus systems that have come to the buildings from the industry, these bus systems have been used for a long time, so the big players like ABB and Siemens have come up with KNX that they actually designed for use in buildings and homes and we wanted to promote our "stupid" relay to "clever". That's how we used to use the bus system but we did not want to be dependent on the bundle, be it compatible or not, but also be easy to compare with the competition because there are more than 250 manufacturers in the KNX alliance today. This means an advantage in compatibility but a disadvantage of interchangeability. That's why we created our own bus system.
Are you undeterred by market competition?
Of course I wondered if to go about it because going against these big ones is treacherous. But I thought it was a relay that made 8 of the top 10 global companies so we went for it, tried it, we managed to find out that making the system is not like making a relay because the relay is commodity supplied to the distribution network, while iNELS is a system we need to take care of from A to Z. Not only do it, but invent, design and manufacture it, but make a complex business project. The project is to talk to the investor from the beginning about what will be there and at the same time to educate and evangelize architects and designers. So for us it was a whole new domain. Not only on the Internet but also in the business where we tried, the first business department of people who have to have their heads turned differently began to form. Because realys are supplied 100% to the distribution network, wholesalers, but iNELS goes through system partners. That's why I separated it after a while. At first, it was one business group, now two separate units. On on side  there are relay dealers, other iNELS specialists. Because many of the competitors made the mistake of putting it into the grid and unnecessarily degrading the concept of "smart" home. It's good for us, we're ready.