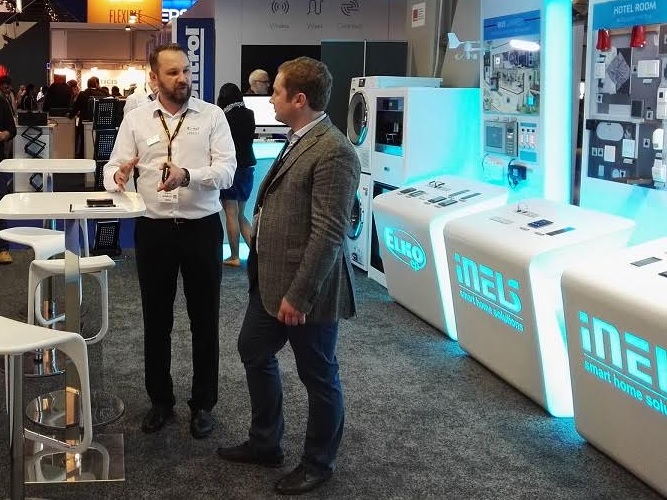 People
Today customers are very happy when you come to see them personally
The coronavirus did not take many prisoners during its attack on our daily lives this year. It limited a lot of things that we used to consider normal. Meetings, driving abroad, moving freely around cities, meeting for coffee.
These are practically all the activities that Jan Kapitanov, who as the Chief Business Development Officer (CBDO) at ELKO EP the world's leading manufacturer of electronic devices for home, office and industrial automation has written on his business card normally, does.
Once you have branches in 13 countries around the world, it's really hard to start doing business offline. "That's why almost as soon as the borders to Italy opened; I went to see not only the Apennine Peninsula, but also Switzerland and Austria. Despite the fact that I often experienced bizarre situations – such as in Bergamo, where we did a skype interview in two adjoining rooms and looked at our catalogue exclusively in rubber gloves – it was generally clear how happy people were to see each other. Just as one business was hard to develop, thanks to personal meetings, others accelerated a lot, "says Jan Kapitanov.
Focus on the big players
For ELKO EP, the whole situation meant a partial adjustment of the overall business strategy. "We started to focus on really big customers and were more careful where we put our energy. After all, contacting small retailers or small chains did not pay off in a state of emergency. On the contrary, many corporations could be seen to have the opportunity to catch up or make time for a meeting, "says the man who came to ELKO EP five years ago from the position of CEO of Kopos Electro, that he already held in Moscow.
"What might have taken a year at another time has been pushed forward a few weeks. This is how we got to work with the largest British and Swedish car manufacturers, for example, "he adds.
Products from the relay series have been particularly successful in this respect. That is, the long-term pillar of ELKO EP's total turnover – in which it is the European number two and has about 85% of the market in the Czech Republic. The situation was more complicated in the area of iNELS intelligent products, because they largely require on-site experts or are widely used in offices and hotels. That is, the two segments affected by the pandemic.
In general, the whole segment of hospitality has been really extraordinary for us in recent years. Hotels have become more and more automated. Not so much to offer guests greater comfort or new possibilities, but because they want to save energy. After all, the consumption of a family house is fundamentally different from a hotel, and every crown or euro is much more fundamental, "explains Jan Kapitanov.
I trust the IoT a lot
Jan Kapitanov currently sees a great opportunity, especially in the area of ​​the development of IoT – the Internet of Things. Here, too, during the crisis, ELKO EP managed to move significantly and gain large customers. "Honestly, I'm a big fan of the whole segment. We have moved a lot in Greece, where we have open partners. But we are furthest in Sweden and Finland, where we have been cooperating with local nationwide providers for a long time. In a good way, Nokia's tradition of focusing on telecommunications technology, and with it the interest in knowledge intelligence is reflected here. There are people who are able to do that. In addition to how big the countries are, with very few people living and vast distances. For such countries, the Internet of Things is made. If you have a cottage a hundred kilometres into the woods and you need to do something there, see, watch or possibly disconnect, our products are absolutely ideal. To give an example, we are dealing with a magnetic detector at transformer stations in the Finnish countryside. An electrician here costs 20 euros per hour, the same as our product. In order for an electrician to go there and check something, he would have to go on a snowmobile and ride for about three hours and then three hours back. Our product arranges it online in the app, not to mention energy efficiency and so on. That's why it makes sense to local people. We are here in really daily communication with nationwide operators, we "customize" our products for them, and we are preparing an application in cooperation with a Finnish developer. I expect our Internet of Things solutions to be in the largest chains in Finland and Sweden within three months. But I believe that this is only a small beginning of a great story, "concludes Jan Kapitanov.