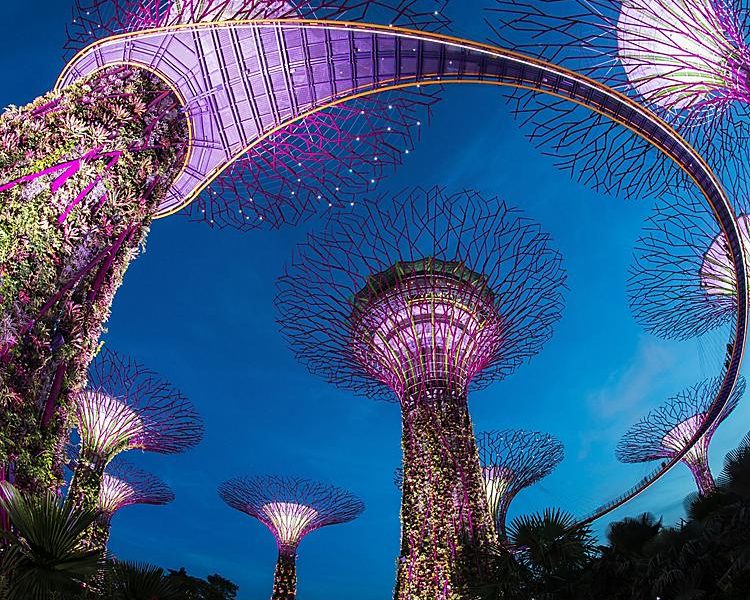 City
Singapore. The city-state prides itself on "smart" titles
During the day, Singapore may seem like a fairly ordinary city. Tall houses, lively business, busy streets, brown river, Chinatown and Indian Quarter. But if you endure the darkness, you will be amazed.
What takes place in the local bay is still one of the most wonderful futuristic performances, and the main driving force are the various hi-tech toys and lighting.
At Marina Bay, a sensory performance takes place night after night. A live 3D music concert is projected on water drops on the water surface. If you turn a bit further, you will see an iconic hotel on three "legs" – Marina Bay Sands. At two hundred meters above the ground, on the roof of the hotel, you will find quite possibly the most attractive swimming pool in the world. Just a short walk away is the National Art Gallery in the shape of a flower, and a few meters away you can enter the Gardens by the Bay, where you will find giant artificial trees full of colour. The so-called super-trees rise to a height of twenty-five to fifty meters – and you're just amazed.
Unlike many other hi-tech metropolises in Southeast Asia, however, Singapore has another unusual feature. Not all technologies are here just for effect, but usually perform another function. What the average tourist does not see are solar panels, which also capture rainwater. A little further on is a five-story vertical rainforest, which is a living laboratory of what nature in big cities might look like in the future.
The world leader of smart rankings
Of course – who else should dominate the ranking of the world's "smart cities" than a city that is also a state? You don't have to deal with any big complexities here – agriculture, heavy industry or impoverished rural regions. In addition, you solve everything clever on an area of ​​728 square kilometres, which is less than the average Czech district. You are rich because most global brands are based here, and you are in a region that has been famous for its technological development for many years.
Still, hats off. The Smart Nation initiative did not remain (similarly to the Czech Republic) on paper and between the four walls of conference halls, but was projected into the streets. The rich state basically digitized the state administration. Everything can be solved via mobile. You can also write with the authorities and the conversation with you is conducted by a fairly well-equipped communication "chatbot" via messenger, which will answer the vast majority of common questions correctly.
Smart lamps in the streets form an interconnected network and collect a lot of useful information. About your condition, about the meteorological situation, about traffic, about daylight. "They are a functional part of the city, for which they collect a lot of valuable data and at the same time save it money. In our country, it is still considered on the threshold of 2021 as a fashion fad, "says Jiří Konečný, owner and founder of the Czech company ELKO EP, which has been involved in the development of smart electrical installation solutions for many years.
Smart Česko kulhá
" We have become accustomed to the fact that we have to export Czech technologies to developed cities in Southeast Asia, the Middle East, India or Western Europe. For many years, we have only been theorizing about them. Some three years ago, I wanted to really do it, I participated in several government initiatives, but mostly stayed with PowerPoints and various assessment committees, so I resigned a bit and refocused on exports, which feed us overwhelmingly, "he adds. A man who in recent years has become the Visionary of the Year, the Global Exporter of the Year or the Smart City Personality.
That is why he sets out from Holešov to admire smart solutions in distant parts. For example, to Singapore, which decided to be "smart" and in some six to seven years it really became smart. Today, they are intensively preparing for the arrival of self-driving cars and building other vertical gardens full of greenery, which oxygenate this technology-driven city-state.
Sure, it's easier for them to get to know them in faraway Singapore, but tackling again and again in the 1920s how to fix a piece of our famous " of one" or consider "smart lighting" a trendy technological innovation is actually the opposite extreme. In any case, when the borders open and you have a trip to Southeast Asia, try Singapore. It will amaze you and your jaw may drop in many places.