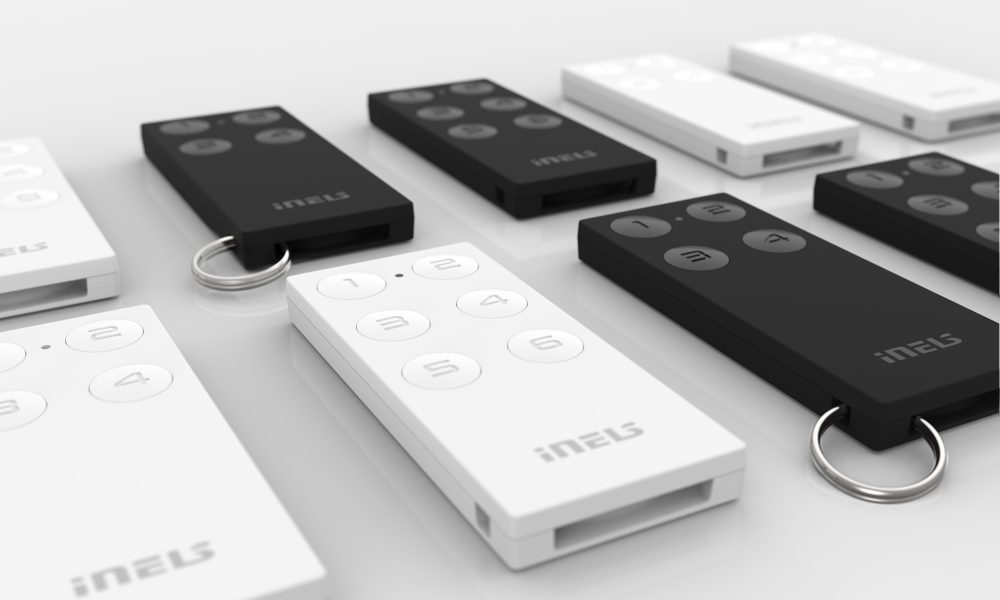 City
A key fob that controls the household. New and even more elegant than ever
In the flood of products that ELKO EP, iNELS and iNELS Air deal with, the RF KEY is actually such a small and relatively unsophisticated affair.
But among customers, it is actually the most visible symbol of connection with "smart" parts of the house. They use the key fob to control lights, doors, gates or blinds in the home. It allows them to set up various lighting scenes or play with individual devices in the house. This summer, it underwent a major design improvement.
The innovative RF KEY variant is more angular, flatter and more compact. Newly, instead of four, it also contains six buttons for controlling individual parts of the house. The overall look is more elegant thanks to the 3D printing that ELKO EP uses during the development of its products. So it was possible to try everything directly on the users in physical form.
"From time to time, it happens to us that we are so immersed in the world of our technologies and various electrical gadgets that we move away from reality. For example, I am personally so enthusiastic that I try all the technologies at home. In the evenings I really play with light scenes, I have our application on my mobile; I'm interested in all the time from the first to the last. But most people really aren't. They expect things to work first and foremost. Many people don't really want to try anything or download smart apps. On the contrary, they can appreciate just such a trifle as a key fob. They have it with them at all times, they can use it when they don't want to get out of the car or get up from the couch. At the same time, they do not need any complicated logging on, "explains Jiří Konečný, owner and founder of ELKO EP, which is one of the absolute European elites in the field of relays and automation products. At the same time a man who has won a number of awards in recent years – as Visionary of the Year or Entrepreneur of the Year.
Designer toy
The keychains themselves are actually portable transmitters that are used to control the iNELS RF Control wireless wiring units. They are most often used to control garage doors, entrance gates or to light up outdoor spaces and when you always have it at hand: in your pocket or in the car. The transmission of messages is ensured by wireless communication between the system units.
The key fobs can simultaneously control an unlimited number of assigned actuators that are within range of the RF signal, the range of the radio signal in a wireless RF installation depends on the building design, materials used and how the units are deployed. Wireless transmitters operate at a frequency of 868 MHz and can send a radio signal containing information for the receiver based on a stimulus (button press).
"Until now, all key fobs had four buttons, were rounded at one end and existed in two basic colours – black and white. The new ones have really undergone a significant facelift; they are again a bit more modern and meet really high demands on design. We talked a lot about their future appearance, in our company, but also with customers and designers. That is why I am glad with the result, which really raises the RF KEY key fob one step higher again, "adds Jiří Konečný.
Even the new one – more angular and flatter – has, of course all the features that people liked about their predecessor. For example, a guaranteed five years battery life, which will be appreciated by everyone who "likes to play" at home.